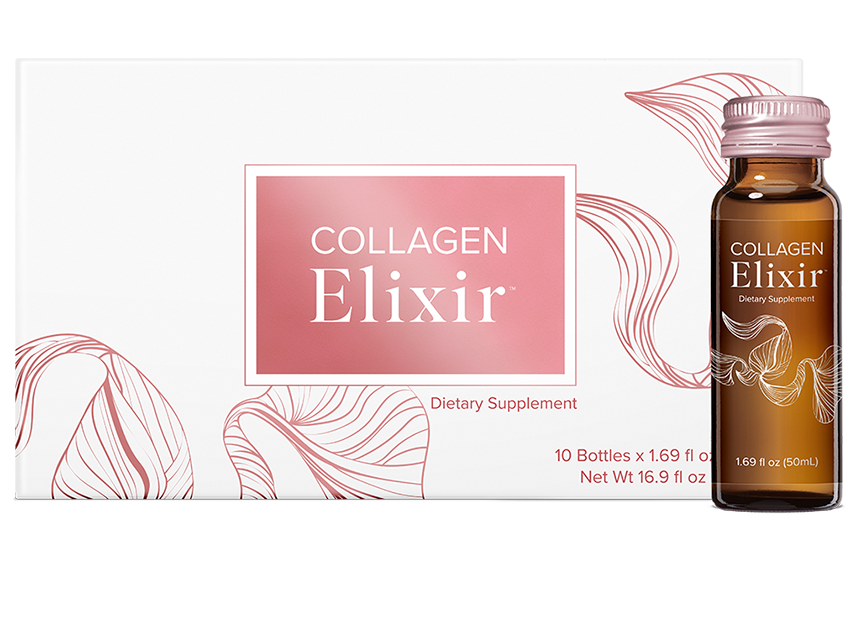 Glow Radiantly, Live Beautifully
Infused with an innovative blend of marine collagen peptides and powerful botanicals, Collagen Elixir™ indulges your skin with both beauty and nourishment from the inside out.
Helps reduce the appearance of fine lines and wrinkles by improving skin elasticity with 5 grams of marine collagen peptides.*
Maintain a more youthful appearance with increased collagen production.*
Protect against the damaging effects of photoaging.*
Enjoy an excellent source of vitamin C, zinc, and biotin.*
Boast a healthy glow with a powerful beauty blend of superfoods.*
Experience a glow up with extra support for hair and nails.*
Taste the glow of wild berries and hints of sweet botanicals.
CLICK HERE to Order Your Collagen Elixir Today. With our 30-Day Money-Back Guarantee, you have nothing to lose, but everything to gain.
BEFORE AND AFTER
The skin you're in was created to thrive, protect, and yes, even glow. It's up to you to enhance it as time passes. Enjoy improved skin elasticity to help reduce the appearance of fine lines and wrinkles.† Enhanced collagen production for your skin equates to a fresh, dewy appearance while you protect it against damaging effects of photoaging.† The elixir does the work. All you have to do is show up and embrace your glow.
PRODUCT SCIENCE
Crafted from the best that science and nature have to offer
Marine collagen: It could be one of the ocean's greatest gifts! It's composed mostly of type I collagen, which is rich in key amino acids. These are the building blocks that support the body's natural production of collagen. Your hair, skin, and nails — and other vital parts of the body — rely on them. And, it's where you get that radiant natural glow from within.
Read More About Collagen Elixir
Collagen Elixir Ingredient Breakdown
Doing What's Best for You and the Earth
The skin you're in was created to thrive, protect, and yes, even glow. Over time, your body's collagen production slows, resulting in fine lines and less elasticity. That's where Collagen Elixir comes in. Our collagen is made with marine peptides from responsibly caught cod and pollock sourced from the Scandinavian seas. That makes our Collagen Elixir effective and environmentally focused.
It's all about keeping nature beautiful, just like you:
Following practices of the Norwegian fishing industry, we take care to protect the ocean. By using collagen with Marine Stewardship Council certification, we help ensure marine resources are protected and work to eliminate overfishing.
100% recyclable, these little impermeable glass bottles are not just pretty to look at. They help keep the elixir fresh with no artificial preservatives — that's less unnecessary waste for you and the Earth.
Manufactured in a carbon neutral facility with a partner that has a vision to eliminate plastic in our world's waterways and aid in the conservation of ocean wildlife.
ORDER YOUR COLLAGEN TODAY
A single box of collagen comes with 10 individual servings. The Beauty Afterglow bundle is a 30 day supply for two people. The beauty bundle is a 30 day supply for one person with 10 extra vials to share. Customers who refer other customers can earn product coupons good toward their next order. Associates can earn free product and commissions for using and sharing Isagenix products.