Looking for the Original Patented Xango Juice?
Now EXCLUSIVE to Isagenix
XANGO Juice is the original, patented, Mangosteen dietary supplement that captures the refreshing, tangy flavor and natural color of the Mangosteen fruit. XANGO Juice's proprietary puree formula uses the whole Mangosteen fruit, from its dark reddish-purple, nutrient-dense rind to the white fleshy pulp. Through this inclusive formula users receive all Mangosteen's health benefits, delivered as nature intended.
I have been drinking and sharing Xango Juice with people all over the world since 2002. Customers all over the world have been enjoying the incredible health benefits of this patented formula. And now, more than ever, people are trying to find the original patented formula online.
LEARN MORE about the Mangosteen
LEARN MORE about the Science and the Health Benefits
LEARN MORE about Xango Juice, Classic and Reserve.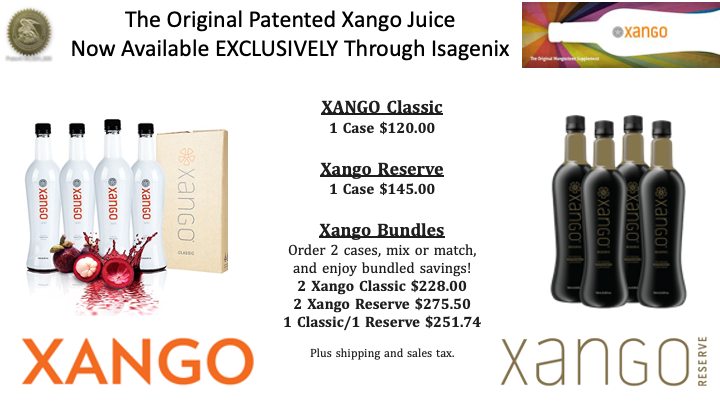 If you have any questions please don't hesitate to reach out to me directly by phone, text, email, WhatsAp, or Social Media.
Want More Info on Xango Juice and Xango Reserve?